On Tuesday November 8th we took the train to Cardiff , drove up to the Vale and landed in the lovely hotel, Vale Resort South Wales, where we celebrated at an awards ceremony with the  leading male and female teams from the Welsh football league. It was, of course, the perfect opportunity to pay tribute to the squad who did us so proud in the Euros this year.
And what a summer it was! I'll never forget it, not least the juggling of work and children and hell for leather runs across the channel. Totally worth it to catch these #togetherstronger players in full flight. Great too, to meet so many fans , and teach my son, John Jones more songs and dances from the terraces to add to his Luton Town Football Club chants and ditties (Nathan Jones  Barmy Army natch).
The Euros 2016 was the stuff of legends, more especially for Iceland and Wales, and as a thanks, I thought it would be fun to revisit the famous legends of Wales, the Mabinogion, and re write them for Wales 2016. You can see the results on You Tube if you want…be warned it's a full 8 mins…I think the team enjoyed a little deep literature in the middle of the awards ha ha. Then I sang a medley ending with…Don't Take Me Home…of course I did… and even wrote a new verse (not that it needs it). Who doesn't resort to repetition when on the sauce?!! Not that many of us were drinking that night – bodies being temples and all, and the Serbian game looming on the horizon.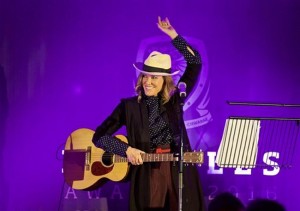 Now then, if you want a refresher vis-a-vis these stories, let me remind you : The Mabinogion are the earliest prose literature of Britain. The stories were compiled in the 12th–13th centuries from earlier oral traditions by medieval Welsh authors. Beyond their origins, first and foremost these are fine quality storytelling, offering high drama, philosophy, romance, tragedy, fantasy, sensitivity and humour; refined through long development by skilled performers.
Perfect then for revisiting with the Welsh football team and Manager Chris Coleman in mind.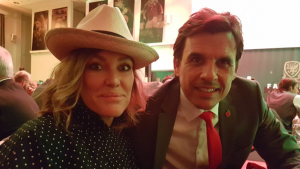 And, if this has whetted your appetite, I can utterly recommend Sioned Davies translation.
On Monday 14th Nov BBC Radio 3 will broadcast a programme entitled 'An Introduction to the Mabinogion'. Professor Sioned Davies, Chair of Welsh at Cardiff University and author of the first new translation of The Mabinogion for thirty years, will reflect on the ancient tales. It will continue to be available after the broadcast as is, from time to time, the documentary I made on the subject for BBC Four in 2014, with the help of Sioned, which is also worth diving into on a cold winters night, even if I say so myself.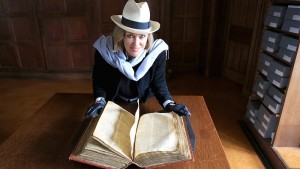 Adios for now, with a huge thanks to all at FA Wales for the everlasting warm welcome.