Conde Nast included the Good Life Experience as one of the world's best small festivals last year and they've asked me to write an 'in a nutshell' description of the event for them ..here's a sneak preview, just in case I can entice you to join us this year:
The GOOD LIFE EXPERIENCE, North Wales, Sept 15th 16th 17th
A weekend where you can get off the hamster wheel, fill your brains with inspiring ideas and try your hand at new skills to boot.
From axe throwing to coracle racing, pit cooking to Bulgarian harmony singing, there's a seemingly endless array of offerings to dip in and out of at will. We invite you to become part of the story, whatever your age. It all happens at harvest time, mid September, when apples, pears and pumpkins fill the fields of former Prime Minister Gladstone' estate, some 8 mins from Chester, where the festival unfolds. It's also great value, most all of these activities are free with the entry ticket, but it's all hand curated with quality in mind. Our points of interest include the GREAT OUTDOORS, (with activities like tree climbing ,bushcraft, rope making, wild swimming and abseiling), FOOD: (includes foraging trips, fermenting, beer and cider making lessons, campfire cooking with Thomasina Miers and Tom Herbert..) MUSIC, (all hand picked by me, this year we have Norman Jay MBE, Amber Arcades, Ezza, Pictish trail and an authentic Wild West hoe down Friday and TONS more..). LITERATURE and DISCUSSIONS: (Michael Rosen is one of our literary guests and we have experts giving talks all over the weekend from fixing Stradivari violins, Allen Ginsberg's travels to star gazing and all in between…)
Bring your entire family, including the dog, (there's a dog show, judged by India Knight this year)and you choose how and where you stay: ready erected bell tents in the shadow of 2 castles or in your own camper van or tent, and there's always the the option of booking into local guest houses and hotels, including the nearby Gladstone Library .
As it's a small festival (4/5000 people) with a great big heart, festival first timers are made to feel totally welcome.
All you need to bring is your curiosity.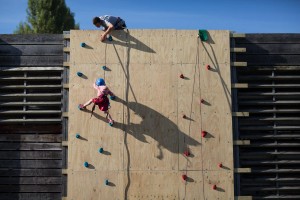 If you fancy coming here's the link for tickets : Good Life Experience Tickets
….but move fast if you want a bargain, there are only a handful of early bird priced tickets still available.
Much love as always,
Cerys xx